Welcome to the shop of Hannah Burr Studio!
Hannah makes art in several different forms: artist books, ebooks and prints, as well as original works on paper and paintings.

The books are wonderful gifts for self and other care, for sea-change moments to inspire peace, freedom and direction in messy, uncertain human life. The Elements book is a wonderful gift between artists and engineers, poets and scientists, and existential, cool-nerd teenagers.
Did you know? Starting in 2021, 10% of all product income goes to charities that heal, protect and inspire through Effective Altruism and accessible arts organizations in Detroit MI
-and-
For every product you buy, we plant one tree! through Eden Projects.
So thank you for supporting the creative economy and meaningful change through your purchases!
ABOUT HANNAH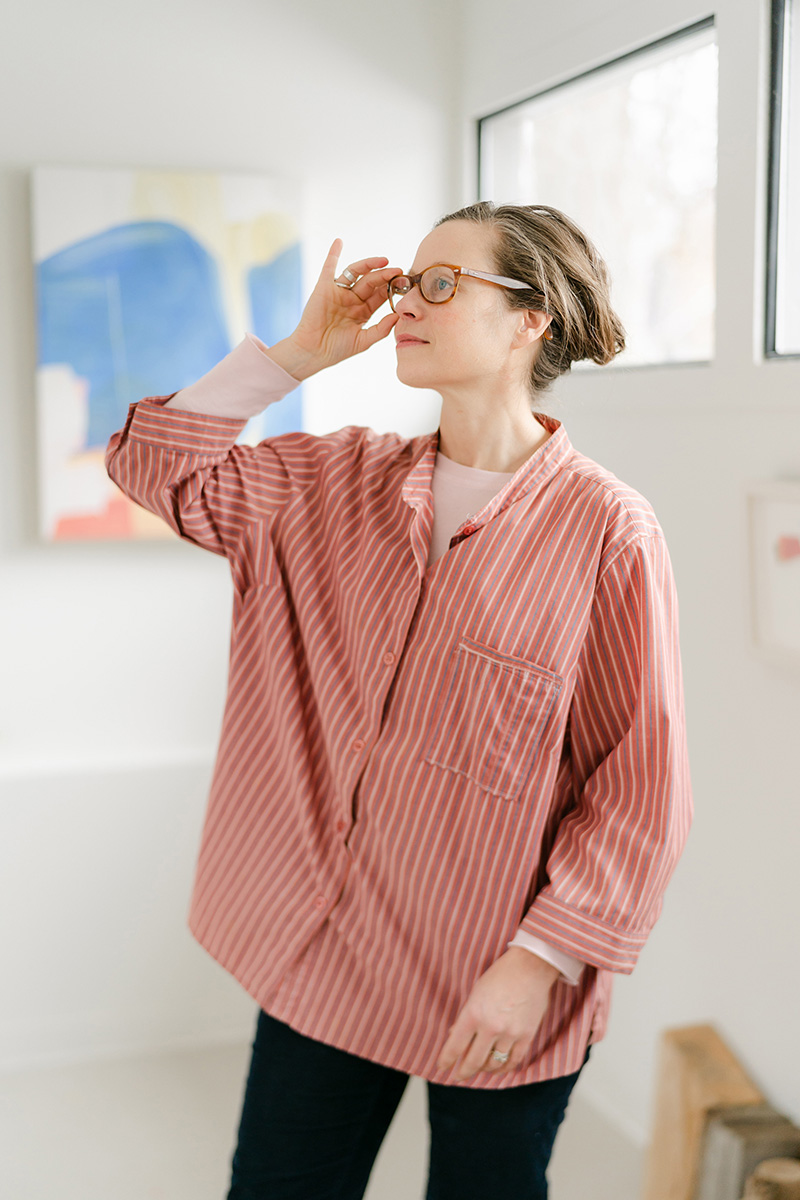 Hannah is a native of Boston Massachusetts now in Ann Arbor Michigan.

Hannah is the author of four books about direct connection to inspiration and new ways of seeing and being in the world.

In her studio she makes original artwork, some completely abstract, some abstract landscape, and she also writes books and makes installation art.

She runs workshops, coaches and speaks on the intersection of creative and contemplative practice, and has exhibited her artwork at the Museum of Fine Arts, Boston, the Currier Museum NH, the Drawing Center NY, and both the Danforth and Rose Art Museums in greater Massachusetts.

Hannah is a cum laude graduate in Visual Art and Religious Studies from Brown University. She is a Berkshire Taconic and Mass Cultural Council Award winner, and a former MacDowell Colony Fellow. Hannah has been represented by Judy Goldman Fine Art Gallery, Boston, Barbara Singer Fine Art Cambridge MA, and Judith Leighton Gallery Bluehill ME.

THE BACKSTORY
As a kid, Hannah was always on the existential end of the spectrum, contemplating on the schoolyard with a friend, what happens after you die (I mean, what if there's just nothing?!). At age nine, she could be seen in front of the candystore with a pal, trying to sell a single, hand-drawn interplanetary newspaper for 50 cents. She always wanted everybody to be included, and as a lifelong lover of color and drawing, landed on art as her love language.


How the books came to be:
About 12 years ago, Hannah's world kind of fell apart. She'd been doing all kinds of spiritual practice, wanting to be *good* and thought that this way, she'd get the stuff she wanted in life. The spiritual practice did deepen, but seemed to initiate a series of losses instead.
The seed of her books began in the aftermath of these losses when nothing made sense anymore, and nothing she did seemed to matter or go the way she thought. She had gotten into the habit of prayer, but understood less and less what she was praying to, though the connection felt strong and personal. Out of that strange time, where her garden plot looked like nothing but dirt, these books grew, other art projects and collaborations grew, friendships blossomed, and eventually a sense of purpose and belonging emerged.
The prayers and the gesture of connecting that these books demonstrate realigned Hannah's entire life. Hannah knows that people, places and things come and they go, money, acclaim, romantic love, health, these fluctuate without warning, for everybody, sometime. The tools that help her through those losses and sea change moments, that bring about peace, freedom and direction, are the centerpiece of everything that comes out of her studio.

What readers are saying about these books:
"Hannah Burr's books are soul-food wrapped provisionally in art. They offer a deep form of nutrient exchange."
"These books assist in big transitions and life events. Through her creative work, Hannah opens portals to other dimensions for her readers."
"Consciousness opening" "reality-connecting"
"These books (and related products) are like a brightly colored buoy floating atop the sea of complicated, human, thoughts, emotions and stories."


FURTHER RESOURCES
Hannah's work spans installation, painting, and interactive projects and can be found at www.hannahburr.com.
Hannah's blog, writing on the intersection of creative and contemplative practice is www.goodbonfire.com
Information about Hannah's workshops, one-on-one coaching and other offerings can be found at hannahburr.com/offerings.
Hannah's helps her clients: creatives, out of the box thinkers, interdisciplinary translators, cultural midwives and those in the mystery of transition (which means you), by offering a set of tailored tools for navigating the uncertain, and listening to the truth of body, as a way of living in the day to day, making choices, and enjoying the ride.